"Trophies"
---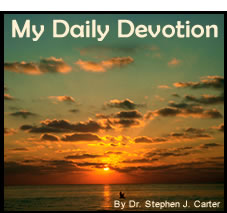 They do it to get a crown that will not last; but we do it to get a crown that will last forever. 1 Corinthians 9:25
I just glanced at some trophies on my bookshelves, probably in need of dusting. So many have been discarded over the years with broken arms or heads or misplaced identification plates. But a few remain to remind me of tennis victories or basketball participation. I remember once working hard to win them and then displaying them proudly. Now they seem forgotten except for an occasional glance and the fleeting memory of a triumphant hour.

How avidly we collect trophies, not just the kind that stand on bookshelves but houses, cars, jewelry, club memberships, and perhaps even church memberships. We work hard, look for opportunities, meet the right people, take risks, and then savor the victories. Very impressive.

But then we hear Paul writing to the Corinthians about dedicated athletes training rigorously for the Isthmian games to win a coveted garland crown. "They do it," he says, "to get a crown that will not last." And only one gets the prize. How futile the pursuit of fading crowns or trophies that will gather dust.

Paul goes on to describe a much more worthwhile pursuit. "But we do it to get a crown that will last forever." He describes the Christian life as a race or a boxing competition. Rugged training and great self-discipline are needed for a life of service to God. But the crown of eternal life comes only from God by His grace. God's Son came to earth for us, obeyed the Father's will, endured suffering, pain, and death on the cross to pay for our sins. Risen from the grave, He freely offers us the crown of life. We respond by living for Him with single-minded purpose, never taking our eyes off Jesus Christ and our crown of life. Our trophies gather dust. His trophy shines forever.

PRAYER: Thank You, Lord Jesus, for suffering and dying on the cross to pay for our sins. Because of Your resurrection we can also obtain eternal life. Help us to spread this message. Amen.

(Devotions from "My Daily Devotion" by Dr. Stephen J. Carter, copyright 1988 CPH. All Rights Reserved. No part of this publication may be printed, reproduced, stored in a retrieval system or transmitted, in any form or by any means, electronic, mechanical, photocopying, recording or otherwise, without prior written permission of Concordia Publishing House. Permission is granted for one-time emailing of this link to a friend. For ordering information, please contact CPH at 800-325-3040 or visit www.cph.org.)

Today's Bible Readings: 2 Kings 17-18 Galatians 4
To Download Devotion MP3 to your computer, right click here and select "Save Link As" or "Save Target As" or "Download Linked File As"