"A Beacon in the Harbor"
---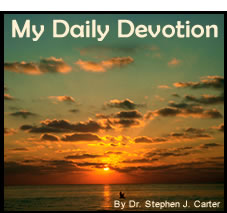 Righteousness exalts a nation, but sin is a disgrace to any people. Proverbs 14:34
Some years ago our nation celebrated the centennial of the Statue of Liberty in New York Harbor. A gift of France and the brilliant work of sculptor Frederic Auguste Bartholdi, the Lady symbolizes basic American values of liberty and an opportunity for immigrants from many lands. Even as ordinary citizens in the United States and France had contributed their pennies, nickels, and dimes in the 1880s to make the Statue of Liberty a reality, so in the 1980s many across America contributed to refurbish and repair the statue. The festivities of Liberty Weekend in 1986 properly crowned this renewal project and reaffirmed the American dream of liberty for all. The Lady continues as a beacon in the harbor for all to see.

Our text speaks of national righteousness and sin. Certainly God has blessed America and we have much we can be happy about. Nevertheless, America also reveals a record of sin. Selfishness, greed, prejudice, manipulation, corruption, and lovelessness have reared their heads in politics, business, labor, and even in the church. We need to search our hearts and confess our sins as American citizens. Like the Lady in need of repairs, our values have been tarnished and our ideals corroded.

But righteousness is ultimately God's doing, not ours. Despite our sin, He declared the world righteous, based on the death and resurrection of Jesus Christ, who fully paid for our sins. By His Spirit God makes us righteous through faith in Jesus Christ as Savior and Lord, and we are empowered to live righteously as citizens of our land.

When we see the Lady, renewed and shining in the sun, we are reminded to let God cleanse us of our sins and renew us to live righteously for Him and for our fellow citizens. God bless America!

PRAYER: Dear Father, help us to shine as beacons of Your love. Amen.

(Devotions from "My Daily Devotion" by Dr. Stephen J. Carter, copyright 1988 CPH. All Rights Reserved. No part of this publication may be printed, reproduced, stored in a retrieval system, or transmitted, in any form or by any means, electronic, mechanical, photocopying, recording or otherwise, without prior written permission of Concordia Publishing House. Permission is granted for one-time emailing of this link to a friend. For ordering information, please contact CPH at 800-325-3040 or visit www.cph.org.)

Today's Bible Readings: 1 Kings 16-18 Acts 13:1-25
To Download Devotion MP3 to your computer, right click here and select "Save Link As" or "Save Target As" or "Download Linked File As"