"America: Lost and Found"
---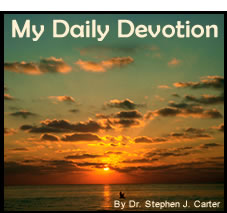 "Rejoice with me; I have found my lost sheep." Luke 15:6
The well-known parable about the lost sheep provides a different perspective on our country as we prepare to celebrate Independence Day. Where does America stand today?

Like the Pharisees and teachers of the law in the Bible, we often think we have arrived. We fancy our supremacy in the world and our high standard of living. We may even look down upon less fortunate peoples of the world. The Pharisees murmured that Jesus ate with tax collectors and sinners.

In reality America is lost whenever we attempt to succeed on our own power. We have chinks in our armor. We no longer control everything in world affairs. Other nations sometimes outstrip us in industrial productivity. We struggle with moral corruption and the breakdown of our families. Personally we fall short of God's glory. We often live selfishly instead of serving God. The Pharisees were lost but refused to admit their condition. Could we be more like the lost sheep than the ninety-nine?

But God wants to find America. The Shepherd goes out of His way to seek us. He finds us confused and lost, bruised and bleeding, tired and forlorn. He takes us in His arms and brings us home. He has given His life for the sheep. America is found. God restores us to our heritage as a nation under Him. He forgives our arrogance and helps us share our bounty. He turns the Christians of America from self to His love. Once lost and now found, we rejoice in finding the lost. God bless America!

Where does America stand? Wrong question. We kneel before God in confession and let God find us in Jesus Christ.

PRAYER: Dear Father, thank You for finding us lost sheep and restoring us to the fold. Help us to seek the lost at home and abroad, for Jesus' sake. Amen.

(Devotions form "My Daily Devotion" by Dr. Stephen J. Carter, copyright 1988 CPH. All Rights Reserved. No part of this publication may be printed, reproduced, stored in a retrieval system, or transmitted, in any form or by any means, electronic, mechanical, photocopying, recording or otherwise, without prior written permission of Concordia Publishing House. Permission is granted for one-time emailing of this link to a friend. For ordering information, please contact CPH at 800-325-3040 or visit www.cph.org.)

Today's Bible Readings: 1 Kings 14-15 Acts 12
To Download Devotion MP3 to your computer, right click here and select "Save Link As" or "Save Target As" or "Download Linked File As"