"Nag, Nag, Nag"
---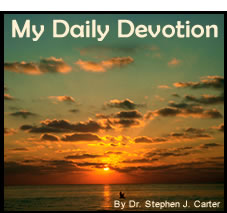 He who guards his lips guards his life, but he who speaks rashly will come to ruin. Proverbs 13:3
A disgruntled husband complains, "I can't get a word in edgewise. All she does is nag, nag, nag. I can't take any more of the screaming. She criticizes everything I do or don't do. She remembers everything I have ever said and uses it against me."

If surface talk creates a communication barrier, then certainly nagging and constant criticism create an even more serious one. When one family member attacks, the others either lash back or tend to withdraw and sulk. Over a long period of time, nagging causes deep hurts and bitter resentments.

For this reason the writer of Proverbs asserts, "He who guards his lips guards his life, but he who speaks rashly will come to ruin." James offers a practical way to break down this communication barrier: "Everyone should be quick to listen, slow to speak and slow to become angry" (James 1:19). That listening ear helps us tune in to the other person's needs. Listening carefully will slow down our speaking and as a result keep our anger from rising to the surface. Good advice indeed.

But on our own, we stand helpless. Only One can forgive us our nagging and strengthen us to change long-established patterns of rash speech. He is the One who "was led like a lamb to the slaughter, and as a sheep before her shearers is silent, so He did not open His mouth" (Isaiah 53:7). When He was being crucified, He spoke words of forgiveness. When He was suffering on the cross, He spoke words of comfort and concern for others. God's powerful remedy for nagging: quick to listen to Him and each other, slow to speak criticism, and slow to anger – because we have been forgiven for His sake.

PRAYER: Dear Lord, forgive me for nagging and constant criticism. Fill me with love to listen carefully and speak words of healing, for Your sake. Amen.

(Devotions from "My Daily Devotion" by Dr. Stephen J. Carter, copyright 1988 CPH. All Rights Reserved. No part of this publication may be printed, reproduced, stored in a retrieval system, or transmitted, in any form or by any means, electronic, mechanical, photocopying, recording or otherwise, without prior written permission of Concordia Publishing House. Permission is granted for one time emailing of this link to a friend. For ordering information, please contact CPH at 800-325-3040 or visit www.cph.org.)

Today's Bible Readings: Proverbs 30-31 Acts 5:22-42
To Download Devotion MP3 to your computer, right click here and select "Save Link As" or "Save Target As" or "Download Linked File As"