"Foundational Building"
---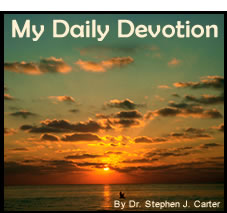 For no one can lay any foundation other than the one already laid, which is Jesus Christ. 1 Corinthians 3:11
Covering up a flimsy building won't work, but how can we build solidly as individuals and as a church? Paul addresses this question as he writes to the church at Corinth. Troubles have developed in the church he founded. The Corinthian Christians have formed parties or factions loyal to Paul, Apollos, or Cephas (Peter). Paul points them to the true foundation.

He writes, "By the grace God has given me, I laid a foundation as an expert builder, and someone else is building on it. But each one should be careful how he builds" (1 Corinthians 3:10). He refers positively to the various builders, but then adds that the only valid foundation is "the one already laid, which is Jesus Christ."

Jesus Christ, God's Son, by His saving death and resurrection laid the only foundation for our relationship to God and our relationships with one another. The church builds only on Christ crucified.

How do we build solidly? Will we use "gold, silver, costly stones, wood, hay or straw" (1 Corinthians 3:12)? Only the Day of the Lord will reveal how solidly we have built. But all building needs to be foundational building, that is, building on Jesus Christ, the true Foundation. As we go again and again to Jesus in Word and sacraments, He will forgive us and lead us to choose only the finest of building materials. We will not act for self-glorification or out of party spirit, but will seek to honor Christ and share Him with others. Built solidly from the ground up, the church will stand and testify to the Savior before all the world.

PRAYER: Dear Lord Jesus, help me to build my faith on You, the Solid Rock, so that I may tell the world of Your love and sacrifice. Amen.

(Devotions from "My Daily Devotion" by Dr. Stephen J. Carter, copyright 1988 CPH. All Rights Reserved. No part of this publication may be printed, reproduced, stored in a retrieval system, or transmitted, in any form or by any means, electronic, mechanical, photocopying, recording or otherwise, without prior written permission of Concordia Publishing House. Permission is granted for one time emailing of this link to a friend. For ordering information, please contact CPH at 800-325-3040 or visit www.cph.org.)

Today's Bible Readings: Proverbs 25-26 Acts 4:23-37
To Download Devotion MP3 to your computer, right click here and select "Save Link As" or "Save Target As" or "Download Linked File As"