"Miracle of Birth"
---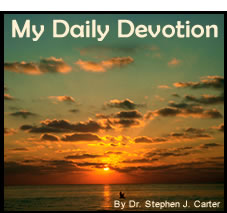 For You created my inmost being; You knit me together in my mother's womb. Psalm 139.13
Some notes on the birth of our middle child on Father's Day many years ago: the birth of a child is one of the miracles of life, even in a world which daily experiences the wonders of 20th-century technology. That truth becomes very personal when my wife is in the delivery room and I wait out the early morning in a father's room at the hospital.

I look out the window and see a beautiful day dawning, a fiery sun rising against a clear blue sky, and my thoughts turn to God. He is making the sun rise. He controls also the stillness and darkness of the night. And He is with my wife and the doctor and our baby in the delivery room. I don't know if our baby is a boy or a girl. Only God knows what abilities and potential are within the baby right now coming out of the womb. But our baby is in God's hands, and that means everything to me. He also cares for my wife. He is the God who loves us so much that He sent His own dear Son to be born just like our baby is being born. That Son was willing to die for me and my wife and that baby – so that all of us can be forgiven and free to serve Him.

Even before I know the results in the delivery room, I thank God for being God and for loving us. "Know that the LORD is God. It is He who made us, and we are His; we are His people, the sheep of His pasture" (Psalm 100:3).

Soon the waiting is over. At 5:49 a.m. our daughter is born. We rejoice together in the recovery room, anticipating her baptism in the name of the Father, the Son, and the Holy Spirit. We want her to know the God who brings the miracle of birth, who helps mothers in the delivery room, and who sent His Son to heal our broken, sick world by his death on the cross. It is a happy Father's Day for many reasons, but most of all because of God the Father, who makes it all possible.

PRAYER: Dear Father, thank You for the miracles of birth and of rebirth through Your Son Jesus Christ our Lord. Amen.

(Devotions from "My Daily Devotion" by Dr. Stephen J. Carter, copyright 1988 CPH. All Rights Reserved. No part of this publication may be printed, reproduced, stored in a retrieval system, or transmitted, in any form or by any means, electronic, mechanical, photocopying, recording or otherwise, without prior written permission of Concordia Publishing House. Permission is granted for one time emailing of this link to a friend. For ordering information, please contact CPH at 800-325-3040 or visit www.cph.org.)

Today's Bible Readings: Proverbs 16-18 Acts 2:22-47
To Download Devotion MP3 to your computer, right click here and select "Save Link As" or "Save Target As" or "Download Linked File As"