"Envy Rot"
---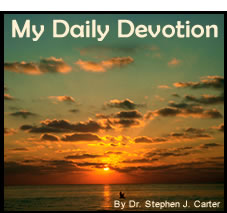 A heart at peace gives life to the body, but envy rots the bones. Proverbs 14:30
According to movie scripts, treasure hunters seeking pirate gold or jewels usually come upon hideous skeletons of greedy cutthroats who died in pursuit of ill-gotten wealth. The rotting bones bear mute testimony to the futility of greed.

Proverbs makes a similar point by saying, "Envy rots the bones." We always want what others possess – the fancier car, the more luxurious home, the high-paying job, the college scholarship, the attractive family. We daydream about enjoying these things, resenting those who prosper, and venting our frustrations on everyone around us. No wonder Proverbs describes envy as rotting the bones. The acid of envy eats away at our insides, rotting our peace, our purpose, and our hope. Purely and simply, we sin.

But the proverb also says, "A heart at peace gives life to the body." We look to the Prince of Peace, who came with a heart only for others. He knew who He was and why He had come. He gratefully accepted the Father's provision, renouncing the kingdoms of this world. At peace with the Father, He endured the storm of suffering and death for our sins. Though dead in the grave, His bones did not rot, for He rose on the third day to bring peace to the world.

Repenting of envy, we accept His forgiveness and receive His peace. "Godliness with contentment is great gain" (1 Timothy 6:6). We gratefully accept God's daily provision, rejoice in the blessings of our neighbor, and live like Jesus for others. God eliminates envy rot. Peaceful hearts give new life to our bodies.

PRAYER: Dear Lord, remove all envy from me and give me a peaceful heart. Amen.

(Devotions from "My Daily Devotion" by Dr. Stephen J. Carter, copyright 1988 CPH. All Rights Reserved. No part of this publication may be printed, reproduced, stored in a retrieval system, or transmitted, in any form or by any means, electronic, mechanical, photocopying, recording or otherwise, without prior written permission of Concordia Publishing House. For ordering information, please contact CPH at 800-325-3040 or visit www.cph.org.)

Today's Bible Readings: Proverbs 8-9 John 21
To Download Devotion MP3 to your computer, right click here and select "Save Link As" or "Save Target As" or "Download Linked File As"