"Pierced Hands"
---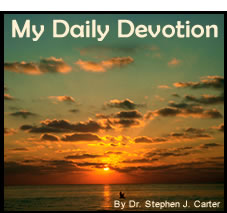 "Look at My hands and My feet. It is I Myself! Touch Me and see." Luke 24:39
You can learn a great deal about a person by the hands – soft hands, callused hands, firm handshake, flabby handshake, smooth hands, wrinkled hands with brown spots. Today we begin a series of devotions on the Biblical significance of hands for our lives as Christians.

A good place to start is with a focus on the risen Christ appearing to His disciples on Easter Sunday evening with the exclamation, "Look at My hands and My feet. It is I Myself! Touch Me and see; a ghost does not have flesh and bones, as you see I have" (Luke 24:39). Certainly He was calming their doubts and fears by showing that He was physically alive, not a ghost. But His hands! What kind of hands would the disciples see and touch?

Thomas frames the answer to that question when he sets his conditions for believing that Christ is risen: "Unless I see nail marks in His hands and put my finger where the nails were, and put my hand into His side, I will not believe it" (John 20:25). Pierced hands! Pierced hands best characterize our Lord. We use our hands to grab things for ourselves, or to push people away. But Jesus permitted His hands to be pierced for us. They nailed Him to a cross and lifted Him off the ground. There, suspended between earth and heaven, He died for us in full payment for our sins. Laid in a tomb, He rose again triumphantly from the grave in physical form. Alive, He still bears the marks of the nails for Thomas and us to see and touch.

We look to His pierced hands every day. In them lie our salvation, our hope, and our power to use our hands in His service!

PRAYER: Point us, Lord, to Your pierced hands so that we may see, touch, and believe! Amen.

(Devotions from "My Daily Devotion" by Dr. Stephen J. Carter, copyright 1988 CPH. All Rights Reserved. No part of this publication may be printed, reproduced, stored in a retrieval system, or transmitted, in any form or by any means, electronic, mechanical, photocopying, recording or otherwise, without prior written permission of Concordia Publishing House. For ordering information, please contact CPH at 800-325-3040 or visit www.cph.org.)

Today's Bible Readings: Psalms 61-62, 65 John 13:21-38
To Download Devotion MP3 to your computer, right click here and select "Save Link As" or "Save Target As" or "Download Linked File As"