"From Downcast to Upraised"
---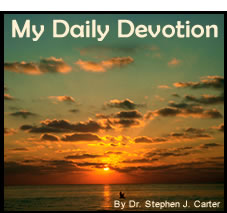 Why are you downcast, O my soul? Why so disturbed within me? Put your hope in God, for I will yet praise Him, my Savior and my God. Psalm 43:5
Have you ever felt downcast? Head bowed. Eyes on the ground. Shoulders slumped. Sighs of heaviness. Everything wrong. The world against you. Circumstances hopeless. Trouble near. God so far away. You dread mornings and the pressures of a new day. You feel tired by mid-morning and exhausted by late afternoon. Thoughts race through your mind without focus and clarity. Gloom overwhelms you.

The psalmist feels cut off from God, longs for worship in the temple, and experiences the depression of emptiness. He cries out, "Why are you downcast, O my soul? Why so disturbed within me?" He answers his own question with a glance upward. "Put your hope in God." The human predicament provides no hope. Sin grips our hearts and makes us downcast. But God provides hope of forgiveness and salvation through the promised Messiah, Jesus Christ.

We need hope in God. He comes to us in our discouragement. He knows our depression. Jesus' shoulders were slumped with the weight of our sins. His head bowed in death. But by His death Jesus won the victory and brings hope through His resurrection. No longer do we need to be downcast.

Now the psalmist lifts upraised hands to God: "I will yet praise Him, my Savior and my God." He longs for the temple worship and begins to praise with his lips. God lifts him up and empowers him for praise.

Similarly, God takes us where we are – downcast, hopeless, discouraged, afraid, uncertain, self-pitying – and lifts our hands to praise Him, our Savior and our God. Filled with the hope of Christ's resurrection, we long for regular worship in God's house and praise Him day by day. We have moved from downcast hearts to hands upraised in praise!

PRAYER: Dear Jesus, thank You for changing me from being downcast to lifting my hands to You in praise. Amen.

(Devotions from "My Daily Devotion" by Dr. Stephen J. Carter, copyright 1988 CPH. All Rights Reserved. No part of this publication may be printed, reproduced, stored in a retrieval system, or transmitted, in any form or by any means, electronic, mechanical, photocopying, recording or otherwise, without prior written permission of Concordia Publishing House. For ordering information, please contact CPH at 800-325-3040 or visit www.cph.org.)

Today's Bible Readings: Psalms 12-14 John 8:28-59
To Download Devotion MP3 to your computer, right click here and select "Save Link As" or "Save Target As" or "Download Linked File As"