"Joy is Like the Rain"
---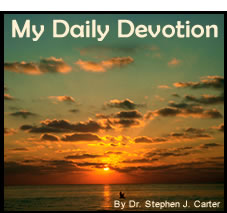 "No one will take away your joy." John 16:22
After a rainy day in May, I've been thinking about a song entitled "Joy is Like the Rain." These reflections give new meaning to Jesus' words regarding joy coming forth out of sorrow. "No one will take away your joy."

Just think about it. Joy is like the rain. Look at the raindrops on your window. Fresh, beautiful raindrops, bringing life to the soil, changing brown, dying grass to a healthy green, watering the parched earth. Watch those drops streaking your window and disappearing in a stream of water. Isn't joy like that? A moment of wonder and happiness – in your loved one's arms or at a candle-lit dinner table, at the lake or seashore, on a picnic with the delightful squeals of your laughing children, at peace with God. Then the moment fades; the laughter ceases; the bitterness comes; the loneliness, the boredom, the envy, the anger. But the joy comes again with the touch of the heavenly Father, a new burst of His love, the beauty of a sunset, the caring of a loved one, the understanding of a friend, the simplicity of a child's faith, the reassuring hand of the Master, Jesus, the Savior, the crucified, the risen One.

Just think about it. Joy is like a cloud. Sometimes silver, sometimes gray, always sun not far away. Are their clouds on the horizon of your life? Do you fret over financial problems, marital problems, labor-management quarrels, medical needs for your family, automobile insurance? Can you see the silver lining in your clouds? Are you looking for the Father's hand? Are you listening for His voice? Will you let the clouds deepen your life? Won't the sun seem all the brighter and more glorious when the clouds pass? Is Christ your Sun of righteousness? Yes, joy is like a cloud.

PRAYER: Dear Lord, thank You for shining through the clouds with the sunshine of Your love. Help me to rejoice daily in the middle of rain and clouds. Amen.

(Devotions from "My Daily Devotion" by Dr. Stephen J. Carter, copyright 1988 CPH. All Rights Reserved. No part of this publication may be printed, reproduced, stored in a retrieval system, or transmitted, in any form or by any means, electronic, mechanical, photocopying, recording or otherwise, without prior written permission of Concordia Publishing House. For ordering information, please contact CPH at 800-325-3040 or visit www.cph.org.)

Today's Bible Readings: Psalms 4-6 John 7:1-27
To Download Devotion MP3 to your computer, right click here and select "Save Link As" or "Save Target As" or "Download Linked File As"