"Daily Burdens Transformed"
---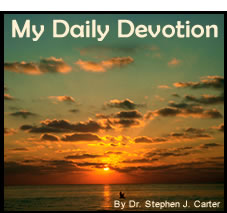 Praise be to the LORD, to God our Savior, who daily bears our burdens. Psalm 68:19
Daily burdens mount. Strife in the family at breakfast. Angry words. Clutter left behind – dirty dishes, towels. Traffic heavy. Late arrival at work and school. Headache begins. Pressures increase. A pile of unfinished work. Decisions to be made. Rushed lunch break. Complaints. Traffic heavy. Home for rest. No quiet. More demands. Children's arguments. Telephone ringing during supper. Meetings to attend. Late to bed. Sleep and the thought of a new day. Daily burdens.

Do you experience daily burdens? When the harried days compound each other, the burdens seem unbearable. Our hectic, modern society is not the only one to claim daily burdens. Israel of old experienced similar problems, the result of sin and selfishness. Nations threatened destruction. Rulers made demands. Each family struggled for survival.

But in our text the psalmist brings a message of joyful praise. God, who brought Israel out of Egypt and into the Promised Land, would also lead Israel in triumphal procession back from captivity to Jerusalem. He who would send a Messiah also daily cared for the needs of His people.

Replay the daily burdens from breakfast to bed. Picture the Lord present to bear them. See Him as the great Burden-Bearer. See Him empowering us to praise Him in the midst of problems and troubles, See Him using us to bear the daily burdens of others. Begin the day with the sign of the cross. Remember your baptism. Fall asleep at day's end with the confidence that all your sins and shortcomings have been fully forgiven in His blood. Look forward with eagerness to the new day. Daily burdens become daily blessings.

PRAYER: Thank You, Dear Lord, for sending Jesus to be my Burden-Bearer. Help me to face each new day with joy instead of dread. Amen.

(Devotions from "My Daily Devotion by Dr. Stephen J. Carter, copyright 1988 CPH. All Rights Reserved. No part of this publication may be printed, reproduced, stored in a retrieval system, or transmitted, in any form or by any means, electronic, mechanical, photocopying, recording or otherwise, without prior written permission of Concordia Publishing House. For ordering information, please contact CPH at 800-325-3040 or visit www.cph.org.)

Today's Bible Readings: 2 Samuel 19-20 John 5:25-47
To Download Devotion MP3 to your computer, right click here and select "Save Link As" or "Save Target As" or "Download Linked File As"