"God's Spacious Place"
---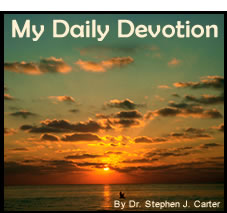 He brought me out into a spacious place; He rescued me because He delighted in me. Psalm 18:19
Americans have traditionally loved the wide-open spaces. Much of the frontier push to occupy this spacious land was motivated by a desire to own a comfortable plot which could be called home. The move from crowded cities to gracious suburban living reveals the same desire for space. Yet we often feel crowded and limited. Cars jam the freeways. We often work among hundreds or thousands of people in a confined space. In short, we often live in narrow, confined prisons of human making.

David in the psalm verse describes God's spacious place. He reviews his life and the many harrowing escapes from his enemies. He knows the meaning of being cramped for space, hemmed in on every side. He was forced to flee home and hide from Saul in caves and behind rocks in the desert. No place to call his own. How confined and bottled up he had felt!

But David rejoices that God "brought me out into a spacious place; He rescued me because He delighted in me." Yes, God gave David and Israel the Promised Land and larger borders than at any other time in their history. But more important, David learned that God always provides a spacious place for us in the freedom of His promises. He rescues us in His Son, the promised Messiah.

Whether we live in a one-room apartment or a four-bedroom ranch, whether we work on a factory assembly line or as a farmer on a section of land, God brings us out into the spacious place of His love in Jesus Christ. Jesus narrowed His road to an appointment in Jerusalem. He was hemmed in by His accusers, confined to a cross between two thieves, and laid in a cave-like tomb behind a huge stone. But God rolled away the stone, and Jesus came out into a spacious place, where He rules the universe. We are free now to praise God wherever we are and can joyfully anticipate the spacious heavenly places forever.

PRAYER: Dear Father, free me from the cramped quarters of my sin and bring me out into the spacious places of Your love in Jesus Christ, my Lord. Amen.

(Devotions from "My Daily Devotion" by Dr. Stephen J. Carter, copyright 1988 CPH. All Rights Reserved. No part of this publication may be printed, reproduced, stored in a retrieval system, or transmitted, in any form or by any means, electronic, mechanical, photocopying, recording or otherwise, without prior written permission of Concordia Publishing House. For ordering information, please contact CPH at 800-325-3040 or visit www.cph.org.)

Today's Bible Readings: 2 Samuel 16-18 John 5:1-24
To Download Devotion MP3 to your computer, right click here and select "Save Link As" or "Save Target As" or "Download Linked File As"