"Twin Enemy of Easter: Doubt"
---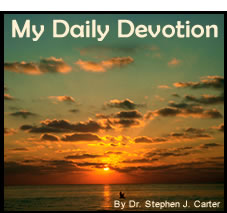 Then He said to Thomas …"Stop doubting and believe." John 20:27
Easter has twin enemies: doubt and fear. Thomas misses the Easter appearance of Jesus. He hears from the disciples that Jesus has risen from the dead and appeared to them. But he declares, "Unless I see the nail marks in His hands and put my finger where the nails were, and put my hand into His side, I will not believe it" (John 20:25). Thomas doubts. No Easter for him.

Doubt can destroy Easter for us. Satan raised doubts already in the Garden of Eden. Our modern age questions God, the Bible, the resurrection and Christian values. We doubt God, ourselves, others, and our future. The twin enemies of Easter show their common birth. Fear traces to the root sin of unbelief, and so does doubt. "Unless …, I will not believe it." We want concrete proof or we will not believe.

Jesus conquers doubt as easily as fear. A week later He appears again in the upper room and says to Thomas, "Put your finger here; see My hands. Reach out your hand and put it into My side. Stop doubting and believe" (John 20:27). All doubts melted, Thomas joyfully confesses, "My Lord and my God!" (John 20:28).

To us Jesus says, "Blessed are those who have not seen and yet have believed" (John 20:29). Jesus comes to us in our doubt with His peace. He shows us His hands and side as we read His Word. He gives us His real presence in the bread and wine of the Sacrament. He forgives our fear, doubt, and unbelief. He bestows faith in His death and resurrection as a free gift. With Thomas we confess, "My Lord and my God!" as we move into a bold new Easter world. The twin enemies of Easter defeated. The risen Christ victorious. Alleluia!

PRAYER: Dear Lord, transform my doubt into sure confidence in You as my Savior, so that I may live boldly for You. Amen.

(Devotions from "My Daily Devotion" by Dr. Stephen J. Carter, copyright 1988 CPH. All Rights Reserved. No part of this publication may be printed, reproduced, stored in a retrieval system, or transmitted, in any form or by any means, electronic, mechanical, photocopying, recording or otherwise, without prior written permission of Concordia Publishing House. For ordering information, please contact CPH at 800-325-3040 or visit www.cph.org.)

Today's Bible Readings: 1 Samuel 4-6 Luke 18:1-23
To Download Devotion MP3 to your computer, right click here and select "Save Link As" or "Save Target As" or "Download Linked File As"