"A Giver You Can Trust"
---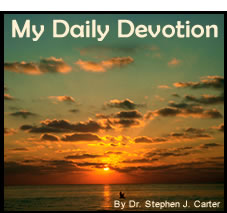 Every good and perfect gift is from above, coming down from the Father of the heavenly lights. James 1:17
We suspect people who give away free gifts. Who is the giver? What are the motives behind the offer? What is the catch or the gimmick? Experience tells us that you don't get something for nothing.

James tells us about a giver you can trust. Meet the Giver. God the Father created the world, including the heavenly lights. He loves us. You can count on Him. He does not have an angle or a pitch. He just gives freely and generously.

Receive His gift. He made us in His image as the crown of creation. He gave us a world to manage and enjoy. We rebelled and shattered the harmony of creation, but He never stopped giving. He sent His Son in the fullness of time as His greatest gift. He lived for us, died a cruel death for us, and rose from the dead. As Paul says, "The gift of God is eternal life in Christ Jesus our Lord" (Romans 6:23). God gave us birth through the Word of truth so that we might live with Him forever.

Give His gift away. The Father gives to us by His grace. Now He wants us to give the gift to others. We give the gift by being "quick to listen, slow to speak and slow to become angry" (James 1:19). He wants us to "get rid of all moral filth and the evil that is so prevalent" (James 1:21). By our life we point others to the Giver and therefore also to the free gift of eternal life.

All too often we hoard the gift and refuse to live it. But still He gives. He provides the Word planted in us, which can save. He exposes our sin. Humbly we come back to Him. We meet the Giver, our heavenly Father, and praise Him. We receive His many gifts, especially eternal life through His Son. And we eagerly give His gift away to others.

PRAYER: Dear Father, thank You for Your faithful giving through Jesus Christ. Amen.

(Devotions from "My Daily Devotion" by Dr. Stephen J. Carter, copyright 1988 CPH. All Rights Reserved. No part of this publication may be printed, reproduced, stored in a retrieval system, or transmitted, in any form or by any means, electronic, mechanical, photocopying, recording or otherwise, without prior written permission of Concordia Publishing House. For ordering information, please contact CPH at 800-325-3040 or visit www.cph.org.)

Today's Bible Readings: Judges 16-18 Luke 15:11-32
To Download Devotion MP3 to your computer, right click here and select "Save Link As" or "Save Target As" or "Download Linked File As"