"Fruit Bearing Required"
---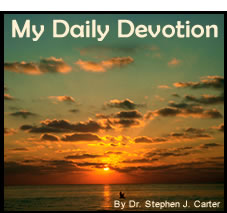 "If it bears fruit next year, fine! If not, then cut it down." Luke 13:9
Jesus tells a harsh parable about required fruit-bearing. He reminds the people of His time that they have a mission to bear fruit with their lives. This particular fig tree had failed to bear fruit for three years, so the owner ordered it cut down. Jesus warns the people that they have failed to live for God.

God has made us beautiful fig trees in our Baptism, nurturing us to a growing faith in Jesus Christ as our Savior. He intends us to bear the fruit of Christ in our lives by His grace. Yet often we, like Jesus' contemporaries, fail to produce fruit. We may have a poor credit rating, conduct ourselves poorly at sporting or social events, use foul language and unkind words, fail to care for others, to attend church regularly, and to share our faith in Christ. Like the people to whom Jesus spoke, we need to repent.

In the parable the owner gives the fig tree another chance, a year of grace to bear fruit. The gardener plans special nourishing care to give the tree every chance. God's grace and mercy pours forth to us as well. We have no need to despair. Because of Christ's death on the cross, God gives us another chance. He provides maximum nourishment. As we come humbly to Him, He forgives and restores us. His love alone can produce fruit in us. What the church needs most is fig trees receiving nourishment and by God's grace continuing to bear fruit in word and deed. Fruit-bearing is required and supplied through Jesus Christ!

PRAYER: O Lord, forgive us for not always living for You. Help us to bear the fruit of Jesus in our lives. Amen.

(Devotions from "My Daily Devotion" by Dr. Stephen J. Carter, copyright 1988, CPH. All Rights Reserved. No part of this publication may be printed, reproduced, stored in a retrieval system, or transmitted, in any form or by any means, electronic, mechanical, photocopying, recording or otherwise, without prior written permission of Concordia Publishing House. For ordering information, please contact CPH at 800-325-3040 or visit www.cph.org.)

Today's Bible Readings: Exodus 31-33 Mark 3:1-19
To Download Devotion MP3 to your computer, right click here and select "Save Link As" or "Save Target As" or "Download Linked File As"