"Love Your Enemies"
---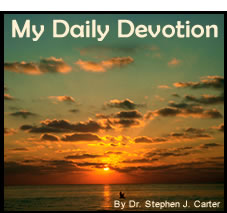 "Love your enemies." Matthew 5:44
You may know the story of Dave Wilkerson, the country preacher from Pennsylvania who came to New York City to start a ministry among street gangs. In one dramatic episode he approached Nicky Cruz to show concern, and the hardened gang fighter drew a knife to attack him. Dave simply said, "I love you and Jesus loves you." Those words haunted Nicky Cruz and eventually led to his conversion. Dave Wilkerson loved his enemy.

Who is your enemy – fanatic leaders in faraway lands who threaten our security, local or national groups which oppose our interests, or the people we face day by day like the boss, a neighbor, a church member, or our own husband or wife? The closer the enemy, the more difficult the relationship. Love our enemy? Love with a self-giving, long-suffering love?

Our problem: We often live selfish, undisciplined lives, controlled by our feelings. When the other person treats us unfairly, we want to lash back with bitter, vindictive actions. We sin. Our veneer of decent living is stripped from us. We hate our enemies.

Enter Jesus Christ. Though He loved everyone, enemies abounded in His life – enemies out to trick Him, badger Him, damage His reputation, and ultimately destroy Him. Yet His words of love ring out from the cross, "Father, forgive them, for they do not know what they are doing" (Luke 23:34). His death on the cross made all the difference. God changed us from His enemies into His friends through the sin-atoning sacrifice of Jesus.

Now the Spirit stands ready to help us. By Dave Wilkerson's words Nicky Cruz was changed from an enemy of God into His friend. Similarly transformed by God's "I love you," we can begin to love our enemies with God's own self-giving love. We can say to them with life-changing power: "I love you and Jesus loves you."

PRAYER: Dear Father, as you have loved us "while we were still sinners," help us to love our enemies with the sacrificial love of Your Son Jesus Christ. Amen.

(Devotions from "My Daily Devotion" by Dr. Stephen J. Carter, copyright 1988, CPH. All Rights Reserved. No part of this publication may be printed, preproduced, stored in a retrieval system, or transmitted, in any form or by any means, electronic, mechanical, photocopying, recording or otherwise, without prior written permission of Concordia Publishing House. For ordering information, please contact CPH at 800-325-3040 or visit www.cph.org.)

Today's Bible Readings: Exodus 29-30 Mark 2
To Download Devotion MP3 to your computer, right click here and select "Save Link As" or "Save Target As" or "Download Linked File As"