"Craving Spiritual Milk"
---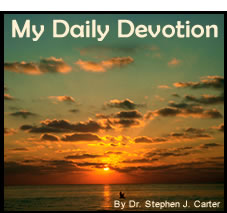 Like newborn babies, crave pure spiritual milk, so that by it you may grow up in your salvation. 1 Peter 2:2
People yawn in the pews waiting for the termination of the sermon. "Do we have to read family devotions again? I've got homework and a great television program to watch." "I wanted to read my Bible this morning, but I just couldn't get up." How can we persuade each other to read and hear the Word of God?

How much persuasion does a hungry baby need to drink milk? The crying baby grabs hold and eagerly drinks the milk until satisfied. Then contentedly the baby relaxes and goes to sleep. "Craving milk" is Saint Peter's expression: He has already explained that we are born again through the living and enduring Word of God. Everything else withers and fades away, "but the Word of the Lord stands forever" (1 Peter 1:25). That Word tells of the death and resurrection of Jesus Christ to bring us a living hope and a secure inheritance. Pure spiritual milk indeed!

Craving, you say? Not yawning, enduring, or complaining, but craving? Yes, craving pure spiritual milk. Hungry first. No pure spiritual milk in the world. Malice, deceit, hypocrisy, envy, and slander, but no spiritual milk. We try to make it on our own without drinking God's pure spiritual milk. But we only begin to fret and cry. Finally, we feel the gnawing of inner hunger. No one can hold us, cradle us, and rock us enough to satisfy that hunger. Close to the pure spiritual milk, we get all excited. We crave it. We grab hold and eagerly drink the Word of Christ's love for us and drink and drink and drink. Contentedly we fall asleep in the quiet confidence that more pure spiritual milk awaits us on the morrow.

PRAYER: Lord, Your Words give everlasting life. Help me to continue to drink of the pure spiritual milk. Amen.

(Devotions from "My Daily Devotion" by Dr. Stephen J. Carter, copyright 1988, CPH. All Rights Reserved. No part of this publication may be printed, reproduced, stored in a retrieval system, or transmitted, in any form or by any means, electronic, mechanical, photocopying, recording or otherwise, without prior written permission of Concordia Publishing House. For ordering information, please contact CPH at 800-325-3040 or visit www.cph.org.)

Today's Bible Readings: Exodus 16-18 Matthew 27:1-26
To Download Devotion MP3 to your computer, right click here and select "Save Link As" or "Save Target As" or "Download Linked File As"