"To See Again"
---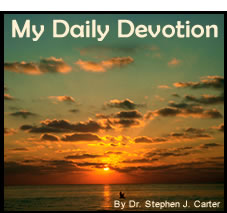 The blind man said, "Rabbi, I want to see." Mark 10:51
I'll never forget the first time I put on glasses to correct my near-sightedness. I walked out into the bright sunlight and saw the whole world clearly. Oh, how great to see again!

My experience pales in comparison with that of blind Bartimaeus sitting by the roadside outside the city of Jericho. Somehow he knew about Jesus and was willing to ask for help. Helplessly blind, he cried out, "Jesus, Son of David, have mercy on me!" Even when others rebuked him, Bartimaeus persevered and cried out all the louder. With Jesus near, the man threw his cloak aside, jumped to his feet, and came to Jesus, asking for help. Jesus immediately restored his sight, and Bartimaeus followed Jesus along the road.

What an example for us who are blind in sin. Are we willing to ask for help in our deepest need? Are we willing to persevere in asking Jesus? When He calls us, are we willing to go quickly and ask for specific help? And when Jesus supplies our need, do we willingly and immediately follow Him?

When Jesus, the Sight-Giver, was on His way to the cross, no mission or crowd was too important for Him to help an individual in need. When Bartimaeus came forth, Jesus asked a penetrating question, "What do you want Me to do for you?" (Mark 10:51). He let Bartimaeus admit his specific need and ask for help. Then, by His almighty power, Jesus restored the blind man's sight.

What an example for us. Jesus, having restored our spiritual eyesight, can use us to help others see again. He can help us to place individual needs first, ahead of crowds of people and goals we pursue. With His help we then use God's power through His Word and sacraments to restore people's spiritual sight.

PRAYER: Thank You, Lord Jesus, for restoring my spiritual eyesight. Use me to help others see You. Amen.

(Devotions from "My Daily Devotion" by Dr. Stephen J. Carter, copyright 1988, CPH. All Rights Reserved. No part of this publication may be printed, reproduced, stored in a retrieval system, or transmitted, in any form or by any means, electronic, mechanical, photocopying, recording or otherwise, without prior written permission of Concordia Publishing House. For ordering information, please contact CPH at 800-325-3040 or visit www.cph.org.)

Today's Bible Readings: Exodus 14-15 Matthew 26:36-75
To Download Devotion MP3 to your computer, right click here and select "Save Link As" or "Save Target As" or "Download Linked File As"