"Like a Child"
---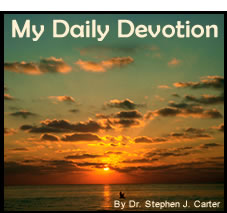 "Anyone who will not receive the kingdom of God like a little child will never enter it." Mark 10:15
Children like to dress up like Mom and Dad, donning dresses and shoes several sizes too large and wearing jewelry. We think it's cute to see them playing adults. Jesus reverses the process, suggesting that adults should become like children.

Today we often have no time for children or for the child in each of us. We forget what we experienced as children. We bury feelings and spontaneous joys because we have learned not to show our feelings. We wear masks.

Jesus, on his final journey to Jerusalem, could have rejected the children brought to Him. But He says, "Let the little children come to Me, and do not hinder them, for the kingdom of God belongs to such as these" (Mark 10:14). He took the children in His arms and blessed them.

For the moment forget your busy schedule and your self-importance. Picture yourself as a child in your favorite room. As you sit there playing, Jesus enters the room and comes to you. You are excited to see Him. He looks at you with a kindly sparkle in His eyes, a smile on his face. He holds out His arms to you. You run to Him with a big hug and then sit in His lap, talking with Him and listening to Him telling you stories. You feel so happy, secure, and relaxed. You know He loves you.

God can make you like a child. He has sent His Son to take the burdens for you. He knows how you hurt inside. Humbly depending on Him like a child, you can face the world's problems with new strength and determination. Jesus, who had time for the children, taught us to call God our Father.

PRAYER: Thank You, Heavenly Father, for sending Your Son Jesus to be my Savior. Amen.

(Devotions from "My Daily Devotion" by Dr. Stephen J. Carter, copyright 1988, CPH. All Rights Reserved. No part of this publication may be printed, reproduced, stored in a retrieval system, or transmitted, in any form or by any means, electronic, mechanical, photocopying, recording or othwerwise, without prior written permission of Concordia Publishing House. For ordering information, please contact CPH at 800-325-3040 or visit www.cph.org.)

Today's Bible Readings: Exodus 9-11 Matthew 25:31-46
To Download Devotion MP3 to your computer, right click here and select "Save Link As" or "Save Target As" or "Download Linked File As"