"A Mouthful"
---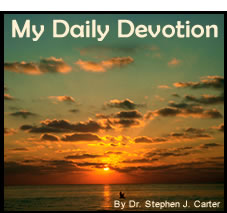 My mouth is filled with Your praise, declaring Your splendor all day long. Psalm 71:8
Picture a delightful, tasty morsel filling your mouth – a juicy filet mignon, a tangy lemon meringue pie with flaky crust, or a superb pasta with zesty meat sauce. What a mouthful to be savored and then swallowed with delight. But before long, the stomach grows full and the appetite wanes.

The psalmist describes a different kind of mouthful, no less delightful. "My mouth is filled with Your praise, declaring Your splendor all day long." Struggling with evil around him, needing deliverance from the grasp of wicked and cruel men, he nevertheless remembers the marvelous blessings of God from the moment of his birth. He sees God as his Hope, Refuge, and Rescue. Therefore his mouth is filled with God's praise, not just for a hungry moment, but all day long. The more he declares the splendor of God, the more he enjoys his mouthful of praise.

And what of us? Do we fill our mouth only with fattening foods? Do we fill our mouth with complaining, profaning, slandering words all day long? Or can we say with the psalmist, "My mouth is filled with Your praise, declaring Your splendor all day long"? How often our indulgent mouthfuls turn flat and indigestion follows. How often our negative words leave our mouth stale and empty, with an emotional hangover remaining.

But God spoke His joyful word at creation, at Bethlehem, at Jordan, and at the empty tomb. He still speaks at the baptismal font, the lectern, and the altar table that our sins are forgiven. Indeed, by His grace – from birth to death and beyond – our mouth is filled with His praise all day long. What a mouthful!

PRAYER: "O Lord, open my lips, and my mouth will declare Your praise" (Psalm 51:15). Amen.

(Devotions from "My Daily Devotion" by Dr. Stephen J. Carter, copyright 1988, CPH. All Rights Reserved. No part of this publication may be printed, reproduced, stored in a retrieval system, or transmitted, in any form or by any means, electronic, mechanical, photocopying, recording or otherwise, without prior written permission of Concordia Publishing House. For ordering information, please contact CPH at 800-325-3040 or visit www.cph.org.)

Today's Bible Readings: Genesis 49-50 Matthew 23:23-29
To Download Devotion MP3 to your computer, right click here and select "Save Link As" or "Save Target As" or "Download Linked File As"