"Inner Beauty"
---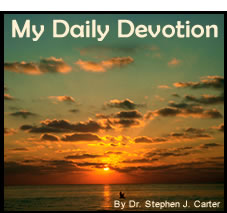 The unfading beauty of a gentle and quiet spirit, which is of great worth in God's sight. 1 Peter 3:4
Full circle. We looked at skin-deep beauty, so appealing to the world but masking the inner ugliness of sin. Then we focused on Jesus Christ, whose humble, suffering life and death appeared ugly to the world but provided a beautiful salvation for us. Today the apostle Peter describes inner beauty as he pens words to husbands and wives.

He writes to wives, "Your beauty should not come from outward adornment, such as braided hair and the wearing of gold jewelry and fine clothes. Instead, it should be that of your inner self, the unfading beauty of a gentle and quiet spirit, which is of great worth in God's sight" (1 Peter 3:3,4). He proceeds to describe beautiful inner qualities for husbands and all believers, including consideration, respect, sympathy, love, compassion, and humility. True beauty lies in the heart, not on the surface.

Do we display inner beauty to others in our daily lives? As husbands or wives, as parents or children, as employers or employees, as pastors or laity, do we radiate God's love? You see, inner beauty comes only from God. We do not manufacture or buy it. No catalog or cosmetics company can guarantee it to us. In fact, our nature will lead us to sin and ugliness.

But God sent His own dear Son to live and die for us. Jesus demonstrated humility, a quiet spirit, compassion, and love as He ministered to the multitudes and went obediently to the cross. He died for our inner ugliness.

Now Christ lives in us through our baptism. Clothed with Christ's righteousness, we also, by His grace, display the inner beauty which comes from Him. Through our daily example others see Christ, and His beauty becomes theirs as well. Inner beauty – His gift to us for others!

PRAYER: Dear Father, give us the inner beauty of a life yielded to You. Amen.

(Devotions from "My Daily Devotion" by Dr. Stephen J. Carter, copyright 1988, CPH. All Rights Reserved. No part of this publication may be printed, reproduced, stored in a retrieval system, or transmitted, in any form or by any means, electronic, mechanical, photocopying, recording or otherwise, without prior written permission of Concordia Publishing House. For ordering information, please contact CPH at 800-325-3040 or visit www.cph.org.)

Today's Bible Readings: Genesis 46-48 Matthew 23:1-22
To Download Devotion MP3 to your computer, right click here and select "Save Link As" or "Save Target As" or "Download Linked File As"