"The Saving Boast"
---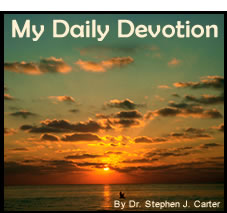 May I never boast except in the cross of our Lord Jesus Christ. Galatians 6:14
We boast. Family pictures quickly available in our wallet for everyone to
see. Trophies in our family rooms of past athletic glory. Service awards
proudly displayed on the wall behind our desk. Country club luncheons for
clients where the head waiter knows us. Fashionable clothing with the right
labels displayed. We boast. Sadly, we boast about externals which provide
nothing permanent.

They boasted in Paul's day too. The Judaizers came with requirements for
the new believers in Jesus Christ. A return to Jewish laws and customs for
authentic faith. Circumcision most of all. The external mark which counts.
Something to boast about. Sadly, they missed the mark because all the
external customs in the world provide nothing permanent.

Paul, a Hebrew of the Hebrews, one of the circumcised, could have joined the
external boasting. But instead, he writes powerfully, "May I never boast
except in the cross of our Lord Jesus Christ, through which the world has
been crucified to me, and I to the world. Neither circumcision nor
uncircumcision means anything: what counts is a new creation" (Galatians
6:14, 15). Paul describes the saving boast, the only legitimate boast:
clinging to the cross of Jesus Christ for full and free salvation.

We boast. Not of our selves nor of our accomplishments nor of our pedigree.
We boast that Jesus Christ renounced all boasting and went to the shameful
cross to pay for our sins. We belong to Him. We have been crucified with
Christ. Therefore we live. No, Christ lives in us. We belong to His new
creation. Thank God for the saving boast!

PRAYER: Thank You Lord Jesus, that You are not ashamed of me. May my only
boasting be in You and Your cross of salvation. Amen.

(Devotions from "My Daily Devotion" by Dr. Stephen J. Carter, copyright
1988, CPH. All Rights Reserved. No part of this publication may be
printed, reproduced, stored in a retrieval system, or transmitted, in any
form or by any means, electronic, mechanical, photocopying, recording or
otherwise, without prior written permission of Concordia Publishing House.
For ordering information, please contact CPH at 800-325-3040 or visit
www.cph.org.)


Today's Bible Readings: Genesis 36-38 Matthew 21:1-22
To Download Devotion MP3 to your computer, right click here and select "Save Link As" or "Save Target As" or "Download Linked File As"