"In God's Time"
---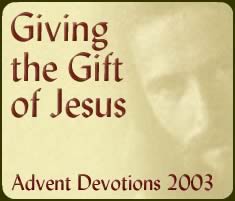 The time came for the baby to be born. Luke 2:6
SCRIPTURE REFLECTION
God's Son was born of Mary at the time appointed. In this humble birth, the world received its greatest gift—the Savior from sin.

THE JOURNEY—DAY 25
Christmas Eve was a work holiday. Bill called Chuck about coming to worship that evening. Chuck replied, "No. Bobby is going to his mom's house tomorrow, so we're staying home to exchange gifts."

Bill was disappointed, but said, "I respect your decision. Maybe another time."

The Bill Wood family had certain Christmas Eve traditions. One was to make Christmas cookies decorated with icing and sprinkles. Another was to attend the Candlelight Service. That night the pastor explained that Jesus was born at that time for the purpose of living a perfect life, dying on a cross for our sins, and being raised again from the dead to conquer the power of sin, death, and hell for us. He said, "This is what the angel proclaimed, 'There is born to you this day in the city of David, a Savior.' "

The congregation lit candles and sang, "Silent Night." Afterwards, the pastor said, "I will stay to talk with anyone who needs the gift of Jesus for Christmas."

As they exited, each family received a paper manger set with the Christmas Story printed on the back. These instructions were attached: "Give this gift to a friend who needs Jesus."

Bill thought, "I'm going to give Chuck the gift of Jesus for Christmas."

REALITY JOURNEY
God sent His Son in the fullness of time to accomplish salvation (reference Galatians 4:4-5). Now is the time of your salvation (reference 2 Corinthians 6:2). Now is the time to give somebody the gift of Jesus for Christmas.

PRAYER FOCUS
Pray for the right time to witness to somebody who does not know Jesus as Savior.

Today's Bible Readings: Ezra 8-10 Revelation 15
To Download Devotion MP3 to your computer, right click here and select "Save Link As" or "Save Target As" or "Download Linked File As"