---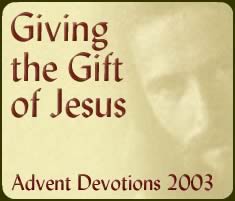 "I have been sent to speak to you." Luke 1:19
SCRIPTURE REFLECTION
The angel spoke good news to Zechariah. Though Zechariah did not believe it, the good news remained true. After his son's birth, Zechariah would speak good news, too.

THE JOURNEY—DAY 8
The phone call with Chuck went well. When Chuck asked Bill why he had called, he simply replied, "I believe God wanted me to call and let you know I care." Chuck didn't comment about God, but told Bill it meant a lot to know he cared. Bill knew the conversation hadn't been highly religious; yet, he was glad he had called.

Sunday morning, the pastor asked if anyone had been thinking about the "Advent Challenge." Bill tentatively raised his hand. He felt uneasy—he'd never before attempted to witness about his faith. Yet, he felt he was the person God had sent to tell Chuck about Jesus.

The pastor reminded the congregation that God sends them to be the speakers, not the converters. Only the Holy Spirit can accomplish conversion through faith in Christ. He stressed, "The Gospel is the power of God to salvation for all who believe. The Gospel remains the good news, even if those who hear it do not believe."

Bill understood that truth. He had been sent to speak the Gospel. The rest relied upon the Holy Spirit. He prayed for such an opportunity with Chuck.

REALITY JOURNEY
The good news is that "God so loved the world that He gave His one and only Son that whoever believes in Him shall not perish, but have eternal life" (John 3:16). Have you been thinking about the "Advent Challenge?" (Reference November 30th devotion.) To whom is God sending you to speak the good news about Jesus?

PRAYER FOCUS
Pray the Lord will send you to a person with whom you can speak the good news of Jesus.

Today's Bible Readings: Haggai 1-2 2 John
To Download Devotion MP3 to your computer, right click here and select "Save Link As" or "Save Target As" or "Download Linked File As"