---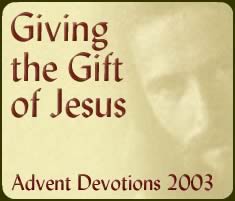 "To make ready a people prepared for the Lord." Luke 1:17
SCRIPTURE REFLECTION
The angel unveiled to Zechariah the role his son, John, would fulfill for the mission of the Messiah. John's message and work would "make ready a people prepared for the Lord."

THE JOURNEY—DAY 6
Bill was anxious about what he would say when he saw Chuck. He realized all he knew about Chuck was that he didn't go to church and that he was struggling with his son's choice of friends. He wasn't sure if Chuck was a Christian, if he had ever been to church, or if he knew anything about Jesus. He didn't know how Chuck would react to a conversation about church or God. He didn't want to scare him away.

Bill received a call about a computer problem in Chuck's department. He pondered how he would approach the subject of church and God with him. When he arrived at Chuck's desk, he wasn't there. So, he began working, hoping to see him before he left. However, Chuck didn't return.

Bill discovered Chuck's son had been in trouble at school. Nobody had any details, but he was told, "Chuck's been having problems with his son ever since his wife left. Since the divorce, things have only gotten worse."

Bill was concerned. On the way back to his office, he began praying for Chuck and his son. He wondered if Chuck had any friends with whom he could talk and how he coped without a church or faith in Jesus? He decided to call him.

REALITY JOURNEY
How much do you know about the unchurched people with whom you are acquainted? What avenues may have been prepared for you to share God's love with them?

PRAYER FOCUS
Pray for someone who is hurting and doesn't know Jesus as Savior and Lord. Ask God to enable you to share God's love with him or her.

Today's Bible Readings: Ezra 1-2 1 John 4
To Download Devotion MP3 to your computer, right click here and select "Save Link As" or "Save Target As" or "Download Linked File As"