---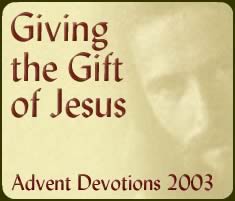 Know the certainty of the things you have been taught. Luke 1:4
SCRIPTURE REFLECTION
Our faith is grounded in the truth of God's Word. The Holy Spirit guides us into all truth causing us to know the certainty of God's promises and their fulfillment in Christ.

THE JOURNEY—DAY 2
It had been a restless night for Bill. He talked with Julie about the "Advent Challenge" over morning coffee. They both felt that people needed to believe in Jesus. Yet, the thought of talking to an unbeliever made them nervous. What would they say?

Bill headed off to take Sam to school. Julie left for the school where she taught 4th grade, with their 8-year-old daughter, Jenny, in tow. The question lingered in Bill's head, "What would I say?"

Bill had the reputation of being the best systems analyst at his company. He never met a computer problem he couldn't solve. When asked the secret to his success, he would reply, "I know what I know and what I know, I apply!" Then he would smile, confident in his abilities.

Today, when he made that very statement, it occurred to him—that's what he would say about Jesus. He knew what he knew. He had been taught the stories of Jesus and the truth of God's Word. Through faith, he was certain of his beliefs—He only needed to say what he knew.

The Spirit affirmed this in him. Bill smiled and thought, "I know what I know and what I know, I apply."

REALITY JOURNEY
Witness and application are based in the certainty of the things you have been taught about Jesus from God's Word. What would you say about Jesus to someone else?

PRAYER FOCUS
Pray for God to confirm your faith, being certain of the things you have been taught, and to guide your witness, applying what you know about Him.

Today's Bible Readings: Ezekiel 40-41 2 Peter 3
To Download Devotion MP3 to your computer, right click here and select "Save Link As" or "Save Target As" or "Download Linked File As"