"When a Stranger Becomes a Friend"
---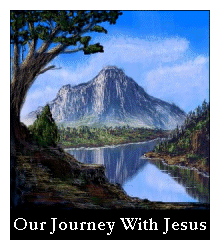 Their eyes were opened and they recognized Him. (Luke 24:31)
When we travel along a road and expect to stay overnight somewhere, as was the case with the Emmaus disciples, we may meet strangers who at first annoy us: too much talking, littering, playing the radio too loudly.

The woman guest in a hotel was angry. The man in the suite next to hers was practicing on the piano incessantly. She complained to the manager of the hotel. "That is Paderewski," he said. That made a difference. Then the woman invited her friends to her room to hear her new "friend" play next door.

On the way to an Emmaus inn Cleopas and his companion were at first slightly irked when a Stranger joined them uninvited and wanted to take part in their conversation. They chided Him politely, "Are you only a visitor to Jerusalem and do not know the things that have happened there in these days?" (Luke 24:18). But what a friend this Stranger turned out to be when at the blessing of the bread at the supper table they recognized Him as their Lord and Savior returned to life! Afterwards they said, "Were not our hearts burning within us while He talked with us on the road and opened the Scriptures to us?" (Luke 24:32).

Perhaps God has sent you on this vacation trip so that you might meet strangers through whom He wants to bless you. Perhaps He put you on the road to become better acquainted with Jesus Christ, your dearest Friend.

PRAYER: Abide with us, dear Savior, as eventide approaches. Open the eyes of our faith that we may come to know You better as our true Friend. Amen.

(Taken from "Our Journey with Jesus" (out of print), copyright 1976, International Lutheran Laymen's League.)

Today's Bible Readings: Psalms 130-132 1 Corinthians 1
To Download Devotion MP3 to your computer, right click here and select "Save Link As" or "Save Target As" or "Download Linked File As"