Spiritual Conversations in the Digital Age Monograph
Technology and rapid cultural shifts may have altered the face of evangelism, but the call to bring Christ to the nations remains. This new report tracks what has changed so that church leaders can coach Christians to be effective in sharing the unchanging Good News.
** Learn more about the Outreach Magazine award! **

Buy the Book More resources
---
Households of Faith Monograph
How Christians order their days and connect with relatives and housemates is a critical aspect of spiritual growth. Households of Faith, the second in a series of studies produced in partnership with Lutheran Hour Ministries, presents a vivid portrait of the domestic lives of U.S. practicing Christians. In addition to all-new research and data visualizations, Households of Faith provides vital principles to strengthen followers of Christ, their homes and, ultimately, the family of God.

Buy the Book More resources
---
Better Together Monograph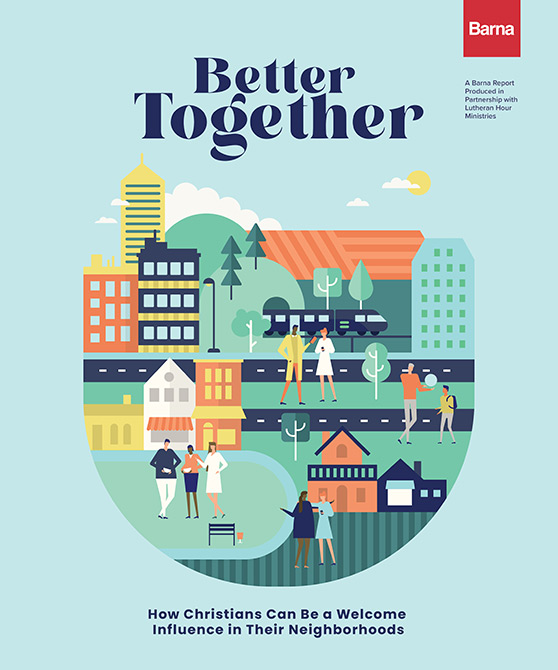 While public opinions about the Church at large are mixed, feelings toward individual Christians are often much warmer. Better Together, the third in a series of studies produced in partnership with Barna Group, seeks to understand Christians who love their neighbors and their neighborhoods and want to make a difference right where they live. The monograph is intended to help churches understand the impact and inner workings of groups of good neighbors, and to help leaders develop a vision for how these members might complement their ministry goals. It's challenging work, but the results can be life changing — because in life and in ministry, we really are better together.
---
Barna Partnership
Lutheran Hour Ministries (LHM) partnered with Barna Group—an industry leader for research-based insights about faith and culture, leadership and vocation, and generational groups—on a critical three-year study of faith in America. This bold collaboration allowed LHM to create resources and online courses that address the needs of both the churched and non-churched.
---
Year one (2018) focused on spiritual conversations in the digital age, year two (2019) delved into households of faith, and year three (2020) explored the development of hopeful neighborhoods. In addition to conducting and providing groundbreaking research, Barna Group created a yearly monograph for Church leaders containing data, analysis, and relevant insights. LHM has created products and programs designed to take what is learned directly to congregations and individuals to apply the new insights in their outreach efforts. This timely research has allowed LHM and Barna to equip the Church to share the hopeful Gospel message, deepen faith in households, and impact neighborhoods with the Good News of Jesus Christ.
"This research allows LHM to provide timely and relevant resources that meet people where they are at. It enables us to gain a hearing for the Gospel in an inviting and contextual way—guiding those who seek toward faith."

- Rev. Dr. Tony Cook, LHM's vice president of Global Ministries